HOTEL TORRE VADO
Home > Hotel
Book your vacation
IN TORRE VADO
Torre Vado is a small marina, belonging to the municipality of Morciano di Leuca, lying on the gentle slope of a series of small hills that plunge into the Ionian sea, in the stretch of coast between Gallipoli and Santa Maria di Leuca.
The coastline is low, sometimes rocky but for the most part characterized by kilometers of fine golden sands that are setting for a crystal clear water, known as the "Maldives of Salento".
All around is a riot of Mediterranean vegetation with vivid colors and intense scents, in sharp contrast with the colors of the red earth and with the white lime.
Torre Vado is also located in a strategic position to enjoy the artistic and architectural beauties that history has left us as an inheritance: from the villages immediately surrounding, until the city of Lecce, the "Florence of the South's Italy", where the Baroque explodes in all its splendor, reachable in less than an hour.
In this enchanting scenery, is located the hotel "La Collinetta", equipped with comfortable indipendent rooms with private terrace, bathroom, telephone and air conditioning, with the attached restaurant " Le Scalelle"; the whole complex , situated on the hill from which it takes its name, offers an extremely pleasant and relaxing view, an indispensable element for a complete relaxation during your vacation in Torre Vado.
All this is accompained by a traditional cuisine with marine specialties, carefully prepared to best satisfy the tastes of customers who will can also count on a wide selection of local wines.
Of course, for how many beautiful words can be spent in an attempt to illustrate the uncontaminated nature that surrounds us,  the splendid sea from by which it's lapped, the healthy air is pure , they will not be able to express the results of this natural mixture, whose flavor you can taste personally.
The Hotel "La Collinetta" is equipped by comfortable and indipendent rooms with private terrace, internal services, telephone and air conditioning and corteous and attentive staff, to make your vacation in Salento unforgettable.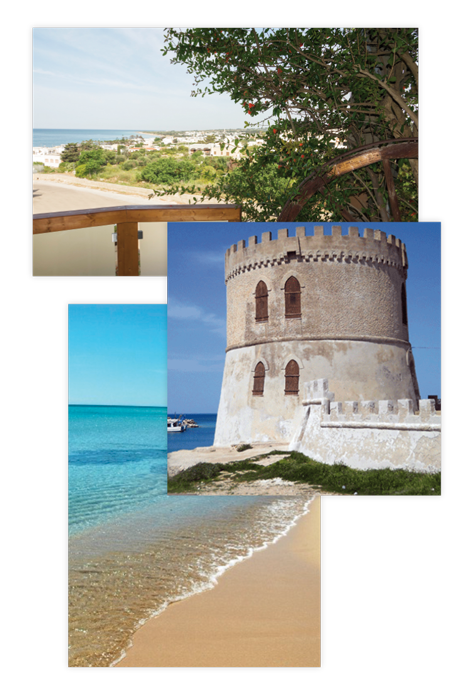 GIVE YOURSELF A GIFT, COME ON VACATION IN TORRE VADO!
BEACH, RELAX, SUN AND GOOD FOOD
FIND OUT WHERE WE ARE AND
HOW TO REACH US
SATISFY ALL OUR CUSTOMERS
OUR FAMILY
We are Lunetta, Fernando, Giuseppe, Stefano and Pamela Strambace, a whole family that started this business professionally in 1990.
Since then, we have put all our energies into improving and increase the services we offer o our customers. For us, this is not only a job, but above all a way of life and a great passion. People who frequent our Hotel are not considered as simple customers, but friends with whom to share flavors and emotions.
For us, catering is not only serving at the table, but welcoming, helpfulness and courtesy.
Fernando is the Hotel chef, with over 30 years of experience. He first worked in small restaurants, until he gets to the prestigious hotels acquiring a wealth of knowledge in the field of accomodation and then the reception and catering; he has become a Chef to meet the needs of its customers, his motto is "satisfy at all costs the customer" and the only way to do it was to enter the kitchen and start a personal management with healthy and genuine food; in short, he is the soul of this Hotel.
Lunetta takes care of the customer's reception and coordinates the work for both the rooms and the restaurants, she is your reference person , always available to listen to your requests and find the best solution to meet your needs, with the courtesy and competence that distinguish her.
Giuseppe, computer expert, discovered the passion for gastronomy when he was young, and once he finished his studies, he started his culinary training path between professional training courses at the Italian Federation of Chefs, food and wine competitions and direct pratical experience. Since 2009 he has been working as a cook in the restaurant  where he now takes care of all the organizational aspects.
Stefano, mechanical expert, is the Maître of the Hotel. Passionate about mixology and oenology, he obtained the WFBS & AIBES bartender diploma and the first AIS level. He takes care of the organizational aspect outside of the kitchen: room management, coordination with the staff and customer care.
Pamela, recently graduated with a degree in tourism economics, is responsible for front office and marketing strategies in addition to the managerial aspect.
For any information Fernando is always at your disposal at number 338 4407019, to ask costs nothing and when on the other side of the phone there is a person who already treats you as a friend, the conversation becomes even more pleasant.